GOZOA - THE KEY QUEST
Can you help free GOZOA's friends from the evil Villain? Travel to the adventurous world of LURRA, overcome magical obstacles, solve mathematical assignments and defeat the enemies of LURRA.
An educational math app for children ages 6-11 years – from the critically acclaimed company GOZOA, developed together with math teachers, educators, game designers, parents and many children in Denmark. We have tested this app on 300+ children.
GOZOA – The Key Quest is a platforming game with magical obstacles and mathematical assignments. All assignments come with 6 difficulties, so everyone between 6-11 years of age is challenged.
MOTIVATION
The child will earn stars and diamonds by completing an assignment, and thus be encouraged to solve them repeatedly to try and improve themselves. Diamonds can be used to buy items in GOZOA's house, and if there isn't any more diamonds left in their pocket, the child must complete additional assignments to earn more.
The story about the Villain keeping GOZOA's friends captured will motivate the child to train their math skills while being entertained by a pretty, adventurous and wondrous world.
The levels are built with a certain progression in mind as it continuously gets harder, and thereby keeping the child challenged and motivated in solving the challenges the best way possible.
As a parent or a teacher you will have the benefit of being able to see how far, and how well, the child has progressed.
LEARNING AREAS (6 difficulty levels)
Practice numbers up to 100

Adding numbers together from 0-100

Subtracting numbers from 0-100

Multiplying numbers from 1-9

Dividing numbers from 1-9

Learn times tables 1-9.

Learn to tell time by using the dial and the digital clock.

Recognize and read the dial - the position of the hands.

Recognize and read the digital clock - using hour and minute display.

Set the time shown on the clock face on the digital clock and vice versa: one hour, 30 minutes, 15 minutes, 10 minutes, 5 minutes.

GAME FEATURES
Fun and entertaining platform game with integrated math assignments.

English narration. The child can play the game without being able to read.

Rewards for making an effort in the form of stars and diamonds.

Entertaining platform game that motivates the child to play the game over and over again.

Buy things for GOZOA's house with the earned diamonds.

Adjust the colors of the game interface (go to settings).

Adjust the sound level of music and narration separately.

Up to 3 profiles can have a game in progress.
GOZOA combines progressive educational philosophies with innovative game mechanics to create engaging interactive entertainment.
"Gozoa - The Key Quest" - Math Game Adventure App, NewsWatch Review from August 27th, 2014.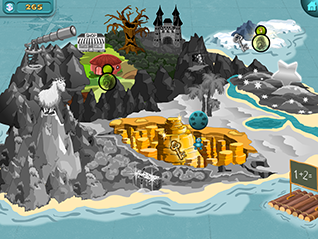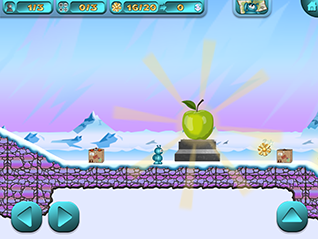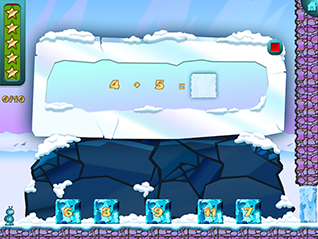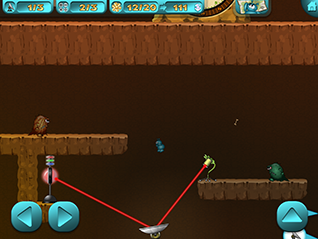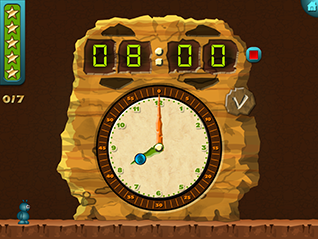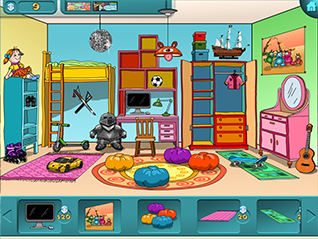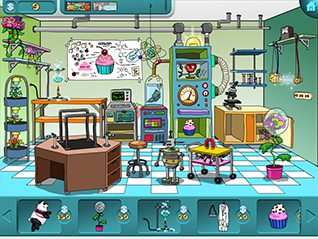 GOZOA - PLAY & LEARN MATH
A fun and educational app for children aged 5–8. The app is approved and quality-assured by teachers and educationalists, and more than 250 children have taken part in testing the game. 
The assignments in the app are based on the public school system for math in Scandinavia and were developed in collaboration with math teachers and children. GOZOA strikes a perfect balance between play and learning. The learning games were designed so that the level of mathematics increases the further you advance in the game. 
LEARNING AREAS 
Recognize numbers up to 20 
Write numbers up to 9 
Count 
Sorting things based on shape and colour 
Build up numeracy skills by connecting names of numbers, symbols, and quantity 
Addition by solving simple math problems 
Geometric shapes 
Symmetry and reverse images 
Conceptual knowledge (fewest/most, biggest/smallest, etc.) 
Adding up to 10 
FEATURES
English voiceover – can be played even if the child cannot read
Fun platform game with 9 different levels dispersed over 3 worlds
The child earns stars depending on how well he/she solves the problems
20 different types of math assignments and more than 50 assignments total 
Clothing shop: coins can be used to buy clothes for GOZOA 
Up to 3 different games can be in progress at the same time
Your child embarks on a math adventure with a coherent storyline dispersed over three unique worlds. The task is to win back all the star numbers from the evil Villain by completing all the levels where he/she is challenged along the way with interactive math assignments and is motivated at the same time by collecting coins which he/she can use later on to dress up GOZOA and his friends. This combination means that your child will not lose motivation but will want to learn more. 
WHAT MAKES GOZOA UNIQUE? 
In contrast to other math exercises that quickly can become tedious, GOZOA combines math tasks with a platform game, which children will recognise from computer games. 
A cartoon universe and catchy music. 
A "player history" section, telling parents and teachers which math skills the child needs to practise. GOZOA supports up to 3 player profiles. 
Follows the math curriculum. 
Screenshots from GOZOA - Play & learn math: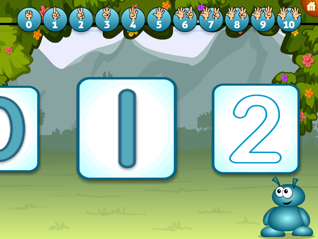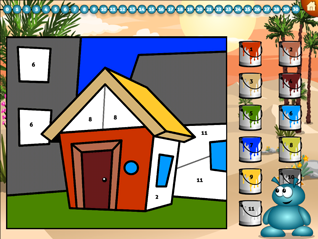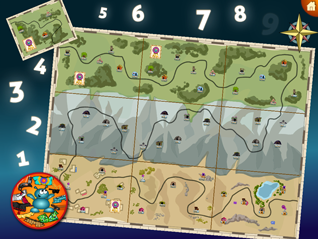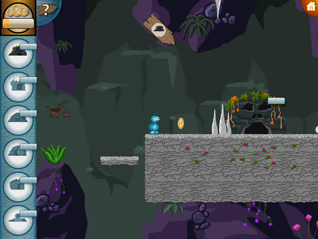 GOZOA - IN SPACE
Intergalactic arcade math game, which helps kids, aged 6–14 to train number recognition, addition, subtraction and multiplication skills in a fun, effective and challenging way. It is easy to play – all you have to do is to tilt the iPad or smartphone so GOZOA can fly to the right number, results, coins and power-ups, but watch out for the asteroids and the Villain along the way… 
THE STORY 
GOZOA needs your help! He is flying through the universe in a cool spaceship and your job is to help him explore 30 different planets as you solve math problems and earn points along the way. 
You can choose between arcade and story mode. In arcade mode, you get to choose the math problem yourself and earn points depending on how long you stay alive. Story mode has the same challenges but the problems vary along the way and you have to fly from one planet to the next, as the game gets more difficult the further you advance. You move through different levels, which motivates you to keep playing and learn. 
THE GAME CONTROLS 
The game uses an accelerometer and you control the GOZOA spaceship simply by tilting the iPad or smartphone. 
THE GAME 
Playing the game involves gathering the correct numbers, gold coins and power-ups (petrol, speed, time and shields) and avoiding the obstacles. You have to think fast and calculate quickly because things move at high speed when GOZOA fly through space. The point is to advance as far as possible in an endless game world while solving math problems without running out of fuel or destroying your spaceship and die – all of which requires you to steer around the different intergalactic dangers. 
Power-ups help you to advance further because the game becomes increasingly difficult. The longer you keep the figure alive, the faster the spaceship flies. 
FEATURES 
Can be used for children aged 6–14 – differing degrees of difficulty 
Several degrees of difficulty from individual numbers to addition, subtraction and multiplication problems up to the number 100 and timed
Fast and engaging arcade game with fun music to maximise the "intergalactic excitement"
Rewards in the form of high scores, stars and upgrades
Intergalactic graphics and animations
Timed challenges
Help guide and tips along the way
You earn stars depending on how well you do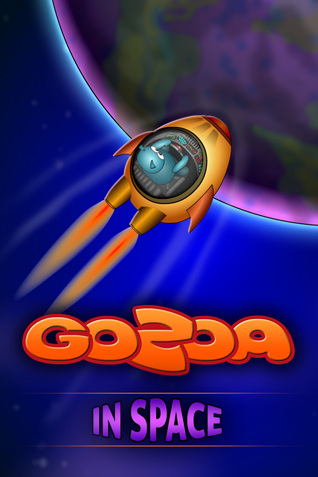 Screenshots from GOZOA - In space: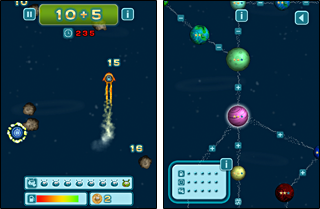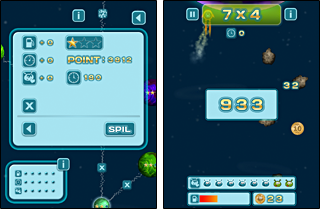 GOZOA - GOES SHOPPING
GOZOA, his friends and The Villain are looking for cool kids, who would love to dress up as a Ninja, Princess or even a Cowboy. Kids who loves styling can go crazy with GOZOA – Go shopping. There is plenty of clothing and accessories to find, which can be put together in different ways to create a fun look. However, before you can go on a crazy shopping spree you need to cash out some gold coins by solving arithmetical problems. Addition, Subtraction and Multiplication problems must be solved by matching clothes and numbers. The gold coins you earn can then be used to purchase clothes in the fashion shop. Now you can start designing your very own unique style.
FOR THE PARENTS
Money can be a very abstract concept for children between the ages of 5-9 years old. The GOZOA – Go shopping familiarizes children with numbers and teaches them about the value of money. Playing will help your child understand money's worth and that it has to be earned before you can spend it.
WHY YOUR KID WILL LOVE IT?
Children love to dress up and put together their dream outfits
There are hundreds of ways to style and accessorize your looks
A camera function makes it easy for you to take pictures of your uniquely crafted style
Up to 3 different profiles can be in progress at the same time.
You can name your profile
Can be played without parents being present as no reading skills are required

Screenshots from GOZOA - Goes shopping: